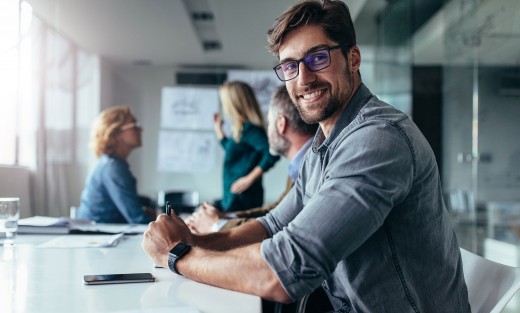 Work at INTER BALT
In INTER BALT "friendly work atmosphere" is a fact, not just empty words.
We like and respect one another, and people feel safe with us. We are family-friendly - we support people expecting a child. We give them a guarantee of employment and we have a flexible approach to their working time. And as far as working time is concerned - employment contract is a standard for us. 
We provide a lot of benefits, including additional medical care, life insurance, employee pension scheme, and as part of co-financing from the Company Social Benefits Fund - Christmas vouchers, a housing loan and a financial allowance for employee rest. In case of a financial need, employees may use our Employees' Loan and Benefit Fund, and in the case of a different life situation - the flexible working time offer. In addition to bonuses, we never forget about professional development - we provide the staff with constant development thanks to the rich programme of trainings and courses. Safety at work is also very important to us.
We believe that in addition to achieving business goals, work can also simply give satisfaction. Balance between professional and private life is very important in our opinion - if you have an interesting hobby, we will talk about it with pleasure. If you have any questions to us - you are always welcome! This is how our policy of "open doors" works. Come to us and see for yourself - welcome!
Pursuant to art. 13 of the General Data Protection Regulation of Personal Data of 27 April 2016 (Journal of Laws of EU L 119 of 4 May 2016) we inform you that the Controller of your personal data is INTER BALT Sp. z o.o., ul. Stągiewna 18, 80-750 Gdańsk. Your personal data will be processed for the purposes of the future recruitment processes based on:
Art. 6(1a) - the consent of the data subject
Art. 6(1(c) - the law - the Labour Code of June 26, 1974
Your personal data will be kept for the period of future recruitment processes, but not longer than for 6 months. The recipients of your personal data are solely entities entitled to obtain personal data on the basis of the provisions of law. You have the right to request the Controller to access personal data, the right to rectify it, delete it or restrict its processing, the right to transfer data, the right to withdraw consent at any time. You have the right to submit a complaint to the supervisory authority. Providing personal data is mandatory based on the law and the remaining scope is voluntary, however, not providing your data may exclude you from the recruitment process.
Brak aktualnych ofert pracy